Connect with the EU Commision at "En Route to Horizon 2020"
Places are still available to connect with European Commission officials at the Pongratz Consulting EUCOPE workshop "En Route to Horizon 2020"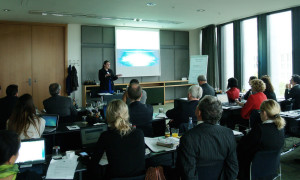 Horizon 2020 is the largest European funding scheme to support European Research and Innovation to date and will provide a 80 Billion EUR boost between 2014-2020
The European Confederation of Pharmaceutical Entrepreneurs (EUCOPE), together with Pongratz Consulting and Eurida Research Management are jointly organizing a workshop in Brussels (Feb 4-5). In this workshop we will discuss the Horizon 2020 EU funding scheme in detail and present the new requirements comapred to the previous FP7 Framework Programme.
Representatives from the European Commission DG-Research and Innovation will join the  "En Route to Horizon 2020" workshop and provide their views.
Furthermore, workshop participants will have the opportunity to discuss proposal ideas and concepts with EU funding experts and to find partners for future collaborations.
Speakers include Dr Rudolf Strohmeier (DG-Research and Innovation), Dr Alexander Natz (EUCOPE), Mark Edwards (EMIG) and EU funding experts.
For further details about the workshop and to register please visit the workshop homepage or contact us directly by email:
http://www.pongratz-eurida-horizonworkshop.com/
Ingemar.Pongratz(a)pongratzconsulting.com